Liposuction and tummy tucks are two body contouring techniques that seek to create a tighter, slimmer abdomen. Both procedures transform the body, but while tummy tucks can address excess skin and damaged muscles, liposuction is used to eliminate unwanted fat. They can be combined or each serve as an effective stand-alone procedure. Regardless of the method, they are an excellent way for patients looking for an extra boost to shed a few inches from the waist. Your pathway to an optimized look will depend on your health and body makeup.
For nearly 20 years, Dr. Michael Howard, MD has served the greater Chicago area with plastic surgery procedures that result in a more attractive midsection. Start your journey today. Request a consultation or call (224) 271-4250 to schedule one at one of our convenient offices in Lake Forest, Glenview, or Chicago.
Procedure
Liposuction
Liposuction surgically removes excess fat in targeted areas that haven't gone away with regular exercise and healthy diet. These fat deposits can be stored in many places in the body such as thighs, buttocks, back, arms, and under the chin or face. However, the most problematic areas lie around our waists, altering the contours of the upper body.[1] This procedure purely provides patients some added help in their efforts to achieve a more streamlined silhouette. During a liposuction procedure, Dr. Howard inserts a small cannula beneath the surface of the skin while negative pressure suctions out the fat. It is a tried and true method of removing unwanted fat on the body that gives high-quality, long-lasting results.
Tummy Tuck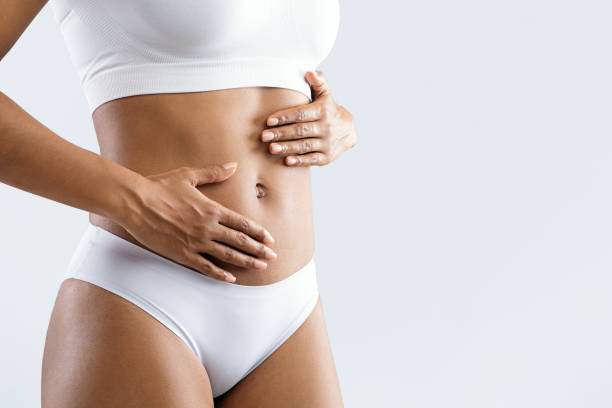 A tummy tuck or abdominoplasty is another cosmetic surgery procedure for patients looking to tighten the skin in the abdomen and other areas following significant weight loss, childbirth, or aging. By removing excess fat and skin, the lower and middle abdomen areas become smoother and tighter.[2] This procedure also corrects diastasis recti by tightening the abdominal muscles that become damaged during pregnancy. Dr. Howard carefully makes a single incision in the lower part of the abdomen between the pelvic bones to access and correct the abdomen. There are three kinds of tummy tuck methods he performs: full tummy tuck, mini tummy tuck, extended tummy tuck.
Benefits
Regardless of the procedure, patients can achieve a more slender midsection. Both a tummy tuck and liposuction offer their own set of benefits and address specific concerns. Here's what you may look forward to:
Liposuction
Liposuction surgery not only offers visually stunning results to your body it also provides added health benefits. A reduced midsection greatly reduces the chance of fat accumulation around the abdomen and torso. This can lead to health issues like heart disease and diabetes.[3] Your results will include a boost in self-esteem and confidence. With a healthy lifestyle, your results can be maintained for years to come.
Tummy Tuck
The overall goal is to provide patients with a restored lower abdomen. It's a popular addition to a mommy makeover since this part of the body often is substantially impacted by pregnancy. And while everyone wants a flatter abdominal area, the tummy tuck repairs damaged muscles and can improve conditions such as stress urinary incontinence (SUI).[4] Lax excess skin is removed, and unwanted fat can be eliminated by the addition of liposuction.
Candidates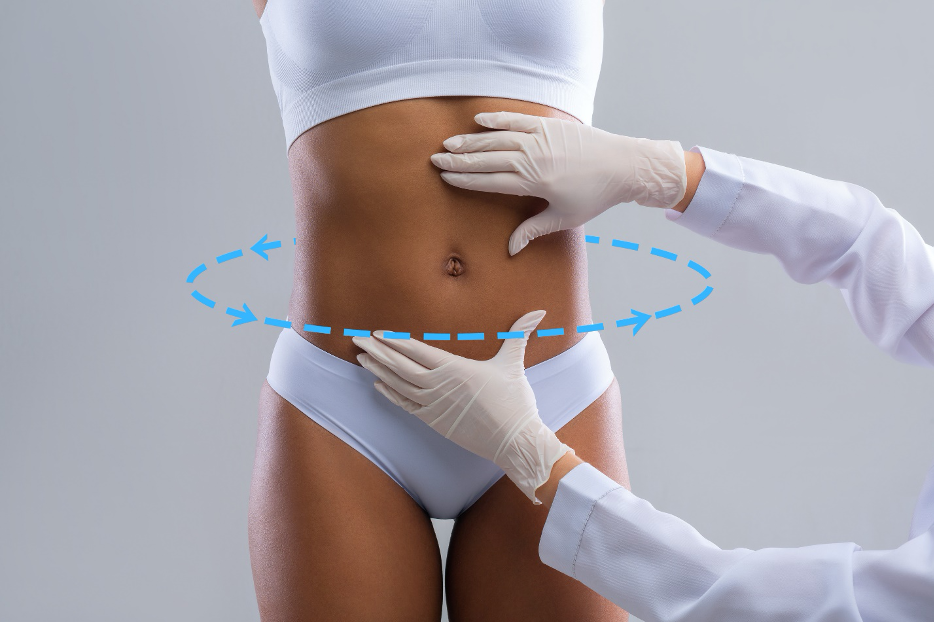 Both methods deliver highly desirable results that are long-lasting. These body contouring methods offer their own set of prerequisites. Having said that, in either procedure, candidates should have realistic expectations about what the procedures can accomplish. It is important to know that you should not view a tummy tuck or liposuction as a weight loss solution. If you are on a weight loss journey, we recommend continuing. You can come back to us when you're ready.
Candidates should meet the following criteria:
Liposuction
Liposuction is ideal for patients looking to get rid of fat deposits located in the hips, thighs, buttocks, or stomach. It is a great tool for those who are looking for extra help in their quest in achieving their ideal body. Candidates should:
Be at an optimal weight
Do not smoke
Have good skin elasticity and underlying muscle tone
Be in good health
Tummy Tuck
Tummy tucks are great for patients looking to get rid of lax skin and reverse the effects of pregnancy. To be a candidate, we recommend that candidates:
Be at an optimal weight
Have a BMI under 35
Are physically healthy and do not have serious health conditions
Have excess skin and a protruding belly resulting from diastasis recti
Have completed their families, as future pregnancies can affect the results
Personal Consultation
On the day of your consultation, you will meet with Dr. Howard and his medical staff to discuss your concerns and goals. Then, he will conduct an examination of your abdomen. After reviewing your medical record and learning more about your lifestyle, he will be able to recommend the best procedure to improve your abdomen. Finally, he will develop and share a treatment plan that is custom-made just for you.
To see which procedure might benefit you, schedule a personal consultation or call (224) 271-4250.
Preparation
To ensure that your experience is a smooth one, we will give you personalized instructions on how to prepare for your tummy tuck or liposuction.
Dr. Howard recommends preparing for both procedures by doing the following:
Stop smoking in the weeks leading up to surgery to avoid complications
Stop taking certain medications such as aspirin and anti-inflammatory drugs
Let us know if you are taking blood-thinning medications and supplements
Arrange to have a care buddy or trusted friend to drive you home and care for you the first 24 hours after your procedure
Arrange to take at least a week off from work to rest and recover
Procedure
After your patient intake is complete, you will be administered either general or local anesthesia to ensure your comfort during the procedure. The exact technique performed will depend on your treatment plan. 
Liposuction
Dr. Howard will make a series of strategic small incisions along the areas of concern. After injecting tumescent fluid to ease fat removal, he will use a small suctioning device called a cannula to break down and remove excess fatty deposits using gentle back and forth motions. [5] The displaced fat is then suctioned from the body, and the incisions are closed. Liposuction can be performed as a standalone procedure or combined with other surgical procedures such as abdominoplasty to achieve a comprehensive makeover.
Tummy Tuck
A tummy tuck procedure can take on several forms. Below are three tummy tuck procedures that can be performed:
Full Tummy Tuck: Dr. Howard will make a set of incisions, one which encircles the belly button. The other is a crescent-shaped incision that stretches from hip to hip, just above the pubis. After lifting the skin, he'll remove excess tissue, and repair the muscles. He'll then redrape the skin over the abdomen, creating a small new opening for the belly button so that it remains in its natural position. He will complete the surgery by excising any redundant skin and suturing the incisions closed.
Mini Tummy Tuck: Having a mini tummy tuck is a shorter, less extensive procedure than a full tummy tuck. It is ideal for patients suffering from moderate amounts of excess skin on the lower abdomen. In this procedure, a 4-8 inch long incision will be made in the lower abdomen. Dr. Howard will lift the skin, remove excess tissue, and redrape the skin for a flatter lower stomach.
Extended Tummy Tuck: This special form of tummy tuck targets loose, excess skin and fat that affects the flanks and lower back, in addition to the abdomen. In this procedure, Dr. Howard will make an incision that extends past the hip bones, just above the pubic area, and another that encircles the belly button. Muscles are repaired, and the entire lower torso is tightened. Liposuction may be performed to remove excess fat. The skin is then redraped and pulled taut, tightening the stomach and flanks. An opening in the skin is made to accommodate the belly button, and excess skin is then removed from above the incision. The incisions are sutured closed. This procedure is often performed for those who have undergone a significant weight loss or multiple pregnancies.
Recovery
Our friendly medical staff will monitor your progress before we send you home. You will be dressed in bandages and a compression garment, which you will continue to wear throughout your recovery. It will help maintain the integrity of the results and reduce swelling. Small drains will be placed at the surgical sites to prevent fluid buildup beneath the incisions. Dr. Howard will instruct you on how to care for them. The office will make follow-up appointments to make sure the healing process is going smoothly.
If you've had a tummy tuck, be sure to avoid laying flat after the surgery, as this will put strain on your incisions. A follow-up appointment will be scheduled to check up on your progress and eventually remove the drains and dressings.
It is important to take brief, easy walks as you recover to promote healthy circulation.
Results
Patients may notice some results immediately, but final results will be obstructed by swelling and bruising. The full effects of the procedure won't be visible for a few months. However, once you've fully recovered, you'll be able to enjoy a flatter, firmer, and more proportional midsection.
FAQ
How much does liposuction and a tummy tuck cost?
The final cost will vary for both procedures as there are a lot of factors to take into consideration. The extent of the condition and the methods used will determine your cost. All of these concerns will be addressed at your consultation.
References