Breast Implant Removal
Conveniently located to serve the areas of Lake Forest and Chicago, IL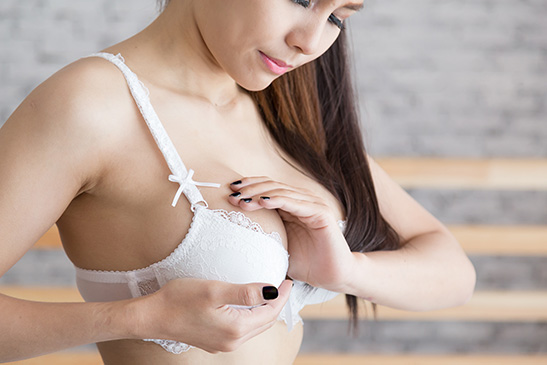 Breast implant removal is a surgical procedure that extracts breast implants from a patient's breasts. This may be done for various reasons, including medical issues such as implant rupture or capsular contracture or for personal reasons such as changing aesthetic preferences or discomfort with the implants. Regardless of the reason, breast implant removal is a significant decision that requires careful consideration and the expertise of a skilled plastic surgeon.
Dr. Michael A. Howard is committed to providing his patients with the highest level of care and achieving the best possible outcomes for their breast implant removal procedures. He understands that every patient's situation is unique and takes the time to listen. With years of experience in plastic surgery and a keen eye for aesthetics, Dr. Howard is a trusted name in the industry and has helped countless patients achieve their desired outcomes. Whether you seek breast implant removal as part of a reconstructive procedure or for cosmetic reasons, Dr. Howard and his team are dedicated to providing compassionate care and exceptional results. Contact us today to schedule a consultation and learn more about how we can help you achieve your goals. Patients in Lake Forest, Chicago, or Glenview, IL, should call (224) 271-4250 to reach our scheduling coordinator.
Before and After Photos
About Breast Implant Removal
There are several reasons why someone may want to have breast implant removal surgery. Breast implants are not designed to last a lifetime; they may develop issues requiring removal over time. For example, if an implant ruptures or leaks, it can cause pain, discomfort, or changes in the appearance of the breast. Patients who choose to or must remove their implants should bear in mind that a skilled, board-certified surgeon like Dr. Howard can achieve aesthetically and functionally pleasing results.
Implant Rupture Rates
The rupture rate for saline implants is generally reported to be around 3% – 5% and 7% – 10% at three years and ten years, respectively. [1] Silicone gel breast implants have a rupture rate of 9% to 12% at eight years. [2]
When saline implants rupture, the saline solution is harmlessly absorbed by the body. Still, in this case, the breast will change shape and no longer be cosmetically pleasing.
However, newer cohesive gel implants, have a firmer shell and a more solid consistency. If the outer shell is punctured, the cohesive gel tends to remain together rather than flow freely. Studies of the safety and effectiveness of these implants have reported low device rupture rates, with only 1.1% of primary breast augmentation patients experiencing ruptures at six years post-implantation. [3] 
To screen for rupture of breast implants, the FDA recommends routine MRI examinations at three years post-implantation, followed by additional exams every two years. [4]
What is Capsular Contracture?
Capsular contracture, which occurs when scar tissue around the implant becomes tight and hard, can also cause pain or distortion of the breast shape. In these cases, breast implant removal may be necessary to resolve the medical issue.
How Does Dr. Howard Restore the Breast After Implant Removal?
Dr. Howard's approach to restoring the breast after implant removal will depend on each patient's unique needs and goals. In some cases, patients may choose not to replace their implants and opt for a breast lift to restore a more youthful appearance and address any sagging or drooping that may have occurred after the removal of the implants. In other cases, patients may replace their implants with new ones immediately after removal.
If a patient chooses to have their implants replaced, Dr. Howard will work with them to select the appropriate size, shape, and type of implant that will best meet their needs and goals. He will also consider any previous complications or issues with the previous implants to help minimize the risk of future problems. Dr. Howard aims to help his patients achieve a natural-looking and aesthetically pleasing outcome that meets their expectations and enhances their confidence and well-being.
What are the Benefits of Breast Implant Removal?
Breast implant removal can provide several benefits for patients. The benefits include, but are not limited to:
Relief from physical discomfort – Breast implants can be heavy and cause discomfort, particularly in the neck, back, and shoulders. Removing them can alleviate these symptoms and improve overall comfort.
Improved physical activity – Some women find that breast implants limit their ability to engage in physical activities such as exercise and sports. Removal can restore the full range of motion and allow for increased physical activity.
Improved body image – While breast implants can enhance breast size and shape, they may not always meet a patient's aesthetic goals or may cause body image issues. Removing implants can improve self-esteem and provide a more natural look.
Reduced risk of complications – As mentioned, breast implants can rupture or leak in rare cases, leading to potential complications such as infection or inflammation. Removing the implants can eliminate these risks and improve overall health.
Cost savings – Breast implants require regular monitoring and may need to be replaced after a certain time, leading to ongoing expenses. Removing the implants eliminates these costs and may be a more financially feasible option for some patients.
The decision to undergo breast implant removal should be carefully considered and discussed with a qualified plastic surgeon like Dr. Howard, who can provide individualized guidance and recommendations based on each patient's unique needs and goals.
Who is the Ideal Candidate for Breast Implant Removal?
The ideal candidate for breast implant removal is a woman who has previously undergone breast augmentation surgery and is now experiencing issues or concerns related to her implants. She may be experiencing medical concerns such as rupture or capsular contracture complications. However, there are also the candidates for removal who no longer feel the breast implants they got a decade ago are appropriate or desirable. A lot can change in ten years.
If you have experienced changes in your lifestyle or physical activity levels you may find that your implants are no longer suitable for your needs. Perhaps you simply prefer the look and feel of natural breasts and choose to have your implants removed. Bring your concerns and desires to Dr. Howard; he can help you love your breasts again!
Personal Consultation with Dr. Howard
During your consultation appointment, Dr. Howard will perform a physical exam to assess the condition of your breasts and implants, including checking for any signs of implant rupture or capsular contracture. A physical examination alone may not be sufficient to determine whether a breast implant has ruptured. Studies have shown that in asymptomatic patients, only about 30% of ruptured breast implants are correctly identified through palpation by an experienced plastic surgeon. [5]  
Changes in the breast size may be indicative of saline implant rupture. In contrast, confirmation of silicone implant rupture typically requires ultrasound and MRI imaging. Dr. Howard will assist you in determining which treatment methods will best determine the state of your implants.
Patients can further expect from the consultation:
A review of your medical history
A discussion of your goals
A review of your options
Developing a treatment plan
Dr. Howard will also provide detailed information on the risks and benefits of breast implant removal, what you can expect during recovery and your expected results.
Preparation
You will need someone to drive you home after the surgery, and you may need assistance with daily activities for a few days. Make arrangements for a friend or family member to help as needed. Dr. Howard's team will provide a complete list of preparatory steps before surgery, including:
Medications to avoid
Prescriptions to fill
The importance of not smoking
Healthy habits
& more
Call our office with any questions. We are here to help!
The Procedure
Breast implant removal surgery takes approximately one to two hours to complete. The exact technique Dr. Howard will use for implant removal will depend on the patient's needs and the implant's state.
To start, the patient is put under general anesthesia, which means they are completely asleep and pain-free during the procedure. Dr. Howard will make an incision in the same area where the original breast augmentation incision was made. The incision may be made along the inframammary fold, around the areola, or in the axilla (armpit) to reduce additional scarring.
Once the incision is made, Dr. Howard will remove the breast implant. If the implant is saline, it will be deflated and removed. If it's a silicone implant, it will be carefully removed intact. Sometimes, the tissue capsule around the implant may also need to be removed, called a capsulectomy.
After removing the implants, Dr. Howard will use the technique decided upon during the consultation to address the breast tissue for reshaping. The most common technique is a breast lift, which involves removing excess skin and tightening the remaining tissue to lift and reshape the breast. This can help to improve the appearance of sagging or drooping breasts that may have occurred due to the weight of the implants.
Breast implant removal surgery aims to achieve a natural-looking, symmetrical, and aesthetically pleasing result while minimizing scarring and preserving breast function. Dr. Howard will work closely with each patient to develop a personalized treatment plan that addresses their unique needs and goals.
Recovery After Implant Removal
After the procedure, the patient is taken to a recovery area, where they are monitored for complications. Pain medication and antibiotics will be prescribed to manage discomfort and prevent infection.
Dr. Howard will provide specific instructions on post-operative care, including pain management, wound care, and activity restrictions. Patients should plan to take a week off work for proper rest and healing. They should also avoid heavy lifting and exercise for several weeks after the surgery.
Our team will provide ongoing guidance on caring for the breasts after implant removal to maintain their shape and appearance.
What are the Results of Breast Implant Removal?
Breast implant removal surgery results can be incredibly satisfying, as patients often experience a renewed sense of comfort and confidence in their bodies. By removing the implants, patients can eliminate any discomfort, pain, or anxiety associated with them and enjoy a more natural, comfortable feeling in their breasts.
Dr. Howard's expertise in breast lift techniques ensures that the breast tissue is restored to a natural and aesthetically pleasing shape. This can give patients a more youthful and perky appearance without breast implants' added weight or inconvenience.
For patients who may have experienced implant rupture or capsular contracture, breast implant removal surgery can alleviate any associated health concerns and restore peace of mind.
What is the Cost of Implant Removal in Illinois?
The cost of your procedure will depend on various factors, all of which are part of the consultation appointment discussion. To learn more about how breast implant removal can improve your life, call (224) 271-4250 today!
References